Hon. Mike Duffy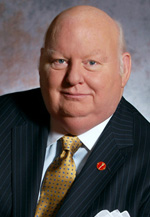 Hon. Mike Duffy                                                                                     Senator, Cavendish PEI
After a long and distinguished career in journalism, in 2009, Mike left his position as host of CTV's Mike Duffy Live, to embark on a career in public service as a member of the Senate of Canada.
Mike proudly sits as a non-partisan Independent Senator, working to help his province, PEI and to build a better Canada.
Mike was born and raised in Charlottetown. In 1964, he started in journalism at The Charlottetown Guardian. He left the Island for other journalism opportunities, moving to Ottawa in 1971.
He began covering news from Parliament Hill for the CHUM Group of radio stations. In 1974, he joined CBC Radio News, switched to CBC TV's "The National" in 1978 and made the move to CTV in 1988.
At the peak of his journalism career, "Duff`" was seen by millions of Canadians each week, and was considered to be the most authoritative broadcaster commenting on the political life of Canada. For a decade he was voted the most popular pundit on Parliament Hill.
He is a member of the Canadian Association of Broadcasters Hall of Fame and is the recipient of an ACTRA award for live TV reporting. Mike is a former Visiting Fellow at Duke University; and is the recipient of honorary degrees from the University of Prince Edward Island; from Niagara University in Niagara Falls, NY; and from Wilfrid Laurier University, in Waterloo, ON.